Simply Elegant at The Hangar Flight Museum
We can transform this fun and unique venue into a stylish wedding setting or corporate party for your next event. The aircrafts on display add to the creative and playful ways that we can coordinate your catering, table design and entertainment for you.
Request a Quote
Let us Design Your Perfect Event Space at The Flight Museum
Do you want your event to take off? Whether It's a wedding reception, town hall/AGM meeting, staff function, or even a fundraiser, we can create an event that is sure to be one your guests will long remember.
Memorial Room
The Memorial Room is a boardroom style event space that can accommodate 16 – 20 people for that small informal or formal meeting.
Main Hangar
What a great place to showcase your event as guests enjoy aviation history while viewing our vintage aircraft and artifacts. This area can accommodate up to 200 people, depending on the type of function you are hosting.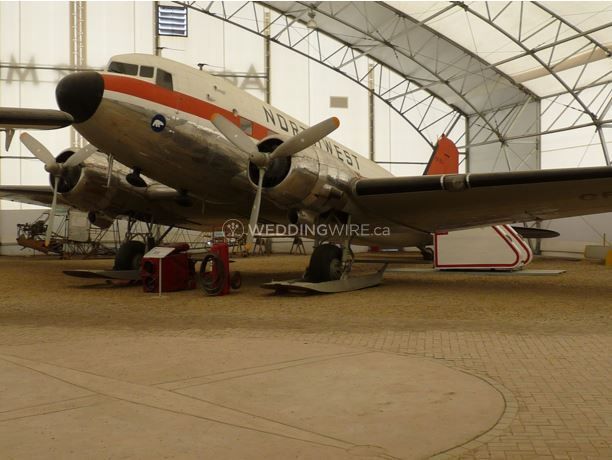 Tent Hangar
Looking for a memorable setting? Consider having your Wedding Ceremony surrounded by the Lancaster Bomber, Twin Otter, DC-3 and other vintage aircraft.
Lancaster Room
The Lancaster Room, which can accommodate up to 50 people, can be set up to accommodate your event requirements. For larger functions, the Lancaster Room is used in conjunction with the Main Hangar for buffet style meals. If you're looking for a classroom, boardroom or theatre style set up, the Lancaster Room is a perfect choice!
The Flight Museum Reviews
Don't take our word for it. Both Calgarians and guests alike have commented on the beauty of Studio Bell event spaces. Here's just a few of the comments.
Decided on this Venue for a staff event for a larger group of people. It could not have been a better location. All the museum staff are excellent. Herb the events coordinator understood my vision for the evening and was able to assist and made sure all the evenings events were possible while ensuring the safety of the aircrafts and artifacts at the museum. Lighting plays a massive role in creating an environment, Herb arranged an evening walk around with his co worker John. John was also attending the event to ensure it went smoothly for the museum. John was so helpful and allowed me all the time I needed, to run between lowes for spotlights (to highlight the beautiful aircrafts) and the museum for trial runs. I am a micromanager when setting up an event and Herb and John understood the importance behind me wanting to envision every step of the event. I always felt welcome as I prepared the little details. I can not express how wonderful the museum team was to work with. This venue is perfect for a cocktail party, reception ect. It is a beautiful canvas to build your dream event. Thank you to both Herb and John for the time invested in the event and with myself during the planning stage. It was a pleasure.
Such an educational venue and also a cool place to host an event. Inexpensive and professionally done.
We're in the business of events
Simply Elegant is a one-stop hospitality company that offers catering, event planning, decor and florals for all types of parties.
With Simply Elegant you are in great hands!